I realised today that it is two weeks since I last blogged. How can it have been so long, yet again? Well for week one, I still didn't have my computer. I finally got it back a week ago. It then took quite a few days to get things up and running again. I still can't use my printer and have one or two other problems – no right click! – but I'm getting back to normality again. The second week's lack of blogging is due to much more pleasant reasons.
First of all, my very good friend Woolly Wormhead, her partner Tom and gorgeous young son Aran, paid us a visit in their bus. They stayed for a couple of days and I realised what a toddler unfriendly house we have. We have stuff everywhere! We had a wonderful time though, and Woolly and I found time to go through some italian stitch books and discuss cables, twists and decreases which was fascinating. The italian stitch patterns are charted, albeit with different simples but Woolly explained them to me and I'm hopeful I will be able to make use of this new knowledge. The best part of all though was making soil castles in the garden with lovely Aran and getting a big hug and kiss bye bye from him. Broody? Not exactly, but nostalgic.
Our next visitors then arrived.
My friend Donna Druchunas with her husband Dominic are travelling through europe whilst Donna works on a new book about Lithuanian knitting. We met up a few weeks ago and showed them the bright lights of Liverpool. This time we shared the victorian splendours of Southport, and in particular, the pier.
Southport pier was first opened in 1860 and at one point was 4380 feet long. It is a fabulous metal and wooden structure extending far out into the irish sea.
Southport Pier in Victorian times
After experiencing gales, collisions with boats and a fire it somehow survived until 1990 when it was nearly closed down by the local council. It is the second longest pier in Britain at a length of 3650 feet. Recent renovation was supported by individual donations where local residents could sponsor each and every plank of wood.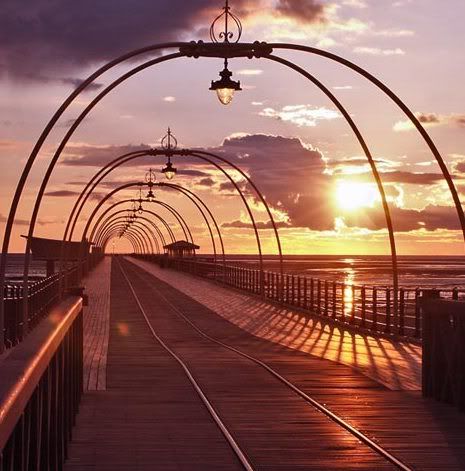 The Pier as it is today
Taking a walk down the pier in bad weather is almost something you just have to do, and is almost a requirement if you haven't experienced a soaking wet, english summer's day.
What really makes it worth the walk, is the victorian amusement arcade at the end. The various amusements actually vary in age from victorian through to the 1950s but all operate with one old penny.
You have to change your money to 'old money' and then you can have your fortune told
You can be scared by the guillotine or the haunted churchyard
Or be absolutely petrified by the laughing sailor. Truly the most unpleasant of 'amusements'
You can watch a puppet show
Or even play a game of football. Note the players' oversized handknitted jerseys!
You can even 'Watch what the Butler didn't see'
We had a great couple of hours, turning the clock back and keeping dry!
for now
Ruby xx